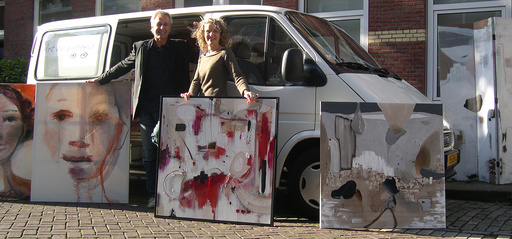 Art expo at your venue
Art can be appreciated best at your home or company. That's why the founders of Art on Wheels, Annemare Rijnbeek and Titus Bovenberg, will bring Art to you.
Art on Wheels is an Art-filled van that can be requested to appear at private or company functions and other events. Art on Wheels is the initiative of a group of artists who want to generate more attention for their work and who prefer selling their art directly to artlovers.
Together with the founders you will select a number of paintings and/or sculptures that will be displayed at your venue for a maximum of three days. The art will be delivered to your home, company or event and will be put on display by the artists.
On request, one or more artists will be present during the exposition to present their work.
Art on Wheels charges a starting fee of € 500,- excl. VAT, which will be reduced when one or more works of art are sold. When one artwork is sold the fee drops to € 250,- and when 2 or more are sold there will be no fee.
You and your guests will enjoy a custommade exposition at the venue of your choice.
Info: annemare.rijnbeek@gmail.com
tel: 0624219156
An initiative by B & R ART Concepts